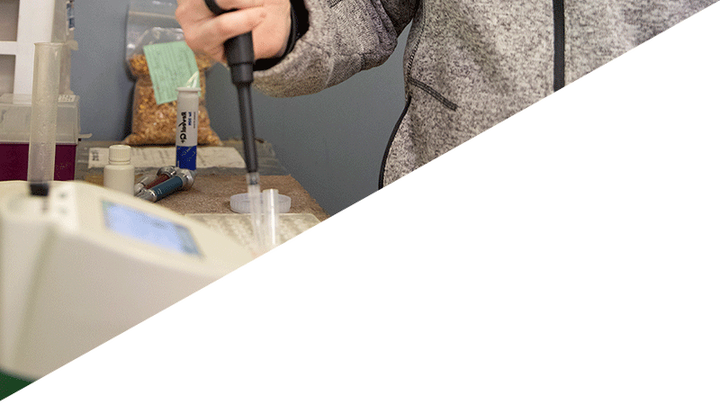 Kohlnhofer farms Case study:
Connecting mills and farms to mycotoxins with Alltech® RAPIREAD™
Josh Teulker, Alltech Global Feed Mill Specialist
THE TASK
Adequate information and time.
Producing animal feed is not the most straightforward process, and many factors need to be taken into account in order to make the best possible product. Feed safety, customer expectations, competitive markets and government regulations all play their part in shaping and optimizing our output.
When it comes to feed safety, mycotoxin control is an essential part of the process and begins with monitoring materials when they first come into the mill. However, this has not always been easy to do. A lengthy testing timeframe and a lack of access to vital information have made determining mycotoxin contamination in busy feed mills challenging and time-consuming.
The Alltech® RAPIREAD™ program addresses these issues, streamlining the testing and analysis processes for ease and efficiency.
THE SOLUTION
Alltech RAPIREAD utilizes the speed and ease-of-use of the Neogen Raptor Integrated Analysis Platform, allowing users to read up to three different mycotoxins at the same time. It then combines this with the information and expert opinions of the Alltech Mycotoxin Management Team's Quick Report, similar to the industry-leading Alltech 37+®mycotoxin analysis reports.
In just a few steps, mill employees can receive a rundown from the Raptor Integrated Analysis Platform that leaves no question as to the risk factor of the tested ingredients. This ensures mill employees can make quick and accurate decisions when dealing with incoming ingredients.
REAL WORLD EXAMPLE
Kohlnhofer Farms is an integrated, family-owned swine producer that has found Alltech RAPIREAD to be a vital tool in the quest to control mycotoxins in the mill that feeds their generations-old family farm.
Ellyn Kohlnhofer is a second-generation farmer that has many jobs at the farm, one being testing for mycotoxins. It was important for her to have a system that was quick, easy to use and produced a report with all the information needed to make fast decisions at the mill. Kohlnhofer Farms wanted to be at the front line of mycotoxin control, and Alltech RAPIREAD filled the gap in their system, producing the essential information when needed. Waiting for a result to come back from a third party was not an option anymore.
"The Raptor Integrated Analysis Platform is easy to use, and results are obtained quickly. We need to be the first to know what mycotoxin level we are dealing with, and being in control of that process was key for us to make quick decisions. The Alltech RAPIREAD program makes the system even easier to use and explains the results so that anyone can understand them. We utilize the stoplight figure in the quick report so that at a glance, we know if action needs to be taken." – Ellyn Kohlnhofer of Kohlnhofer Farms
Conclusion
Alltech's RAPIREAD is a must-have for mills looking for optimal information from their Neogen Raptor systems, giving them the details required to make quick decisions on how to handle ingredients coming into their mill. For more information on Alltech RAPIREAD, please contact the Alltech Mycotoxin Management Team.