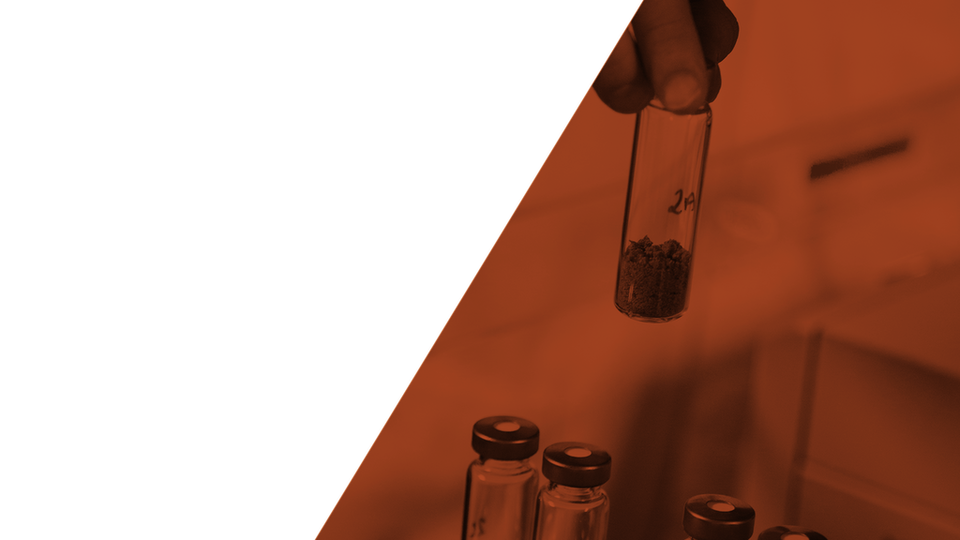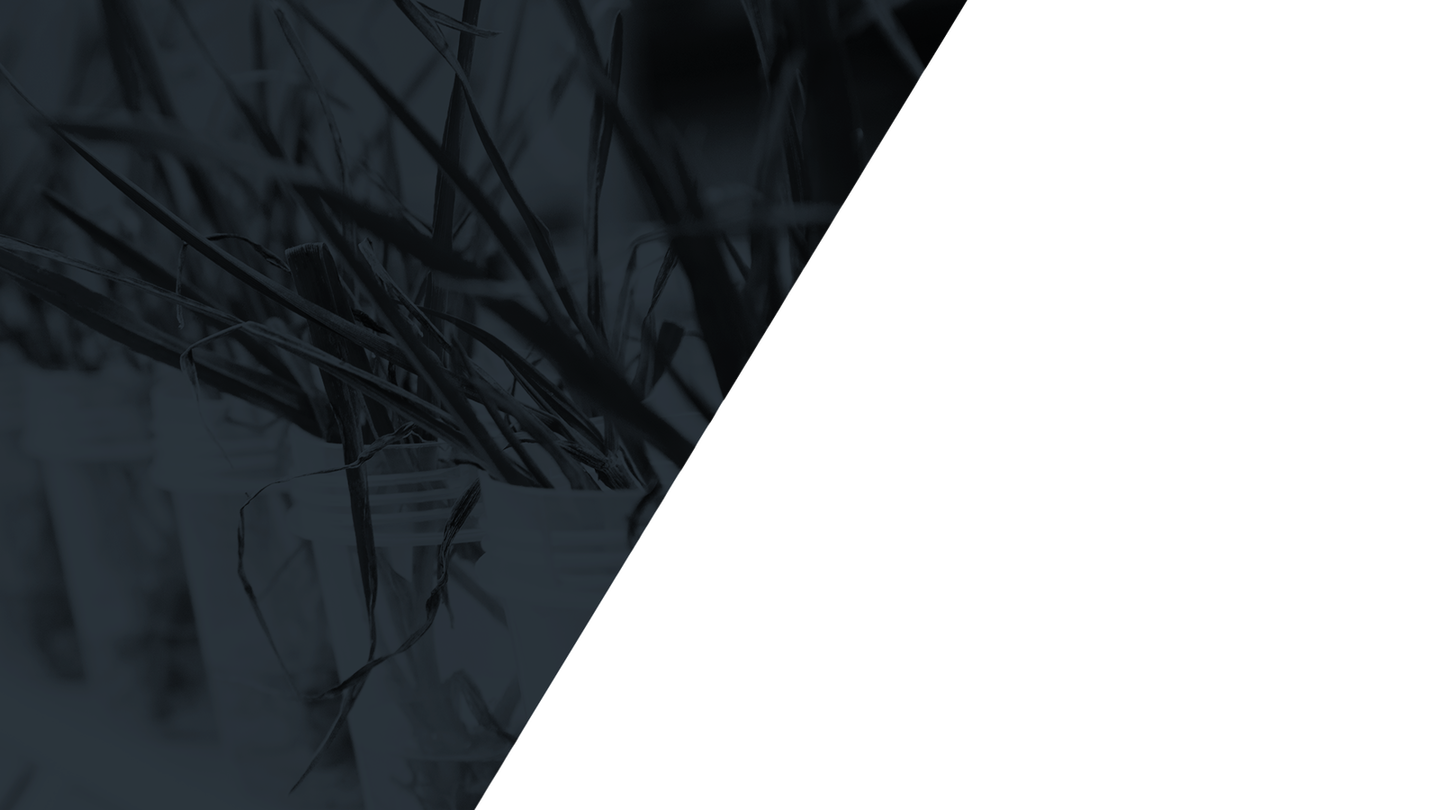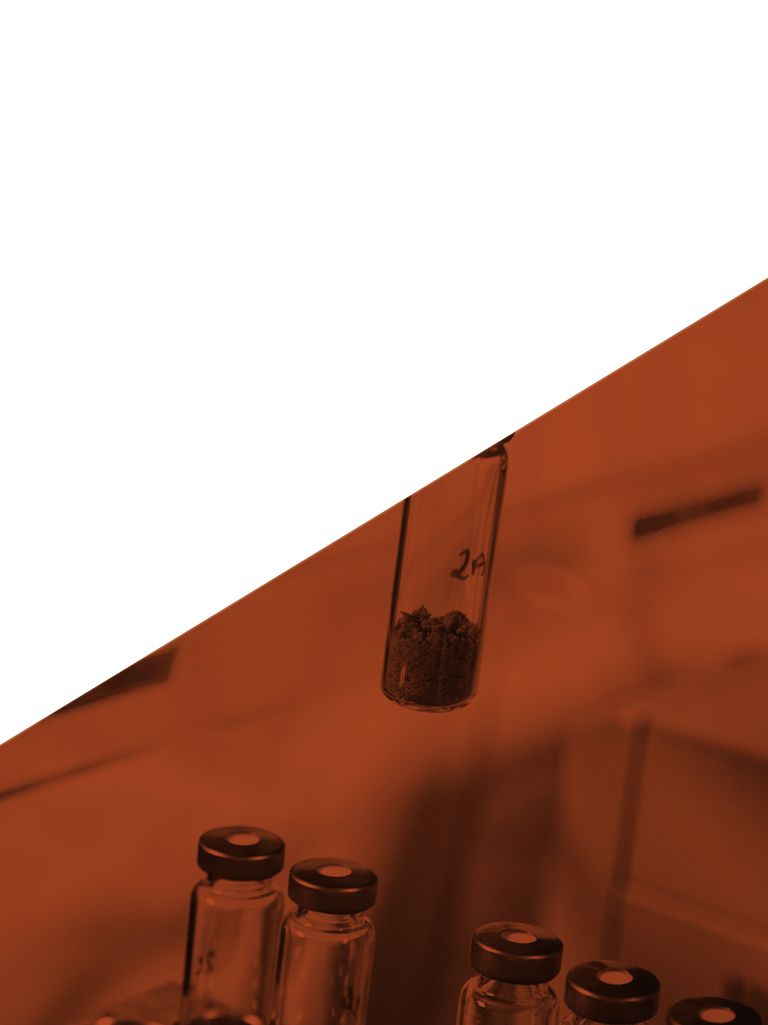 Fusarium mycotoxicosis in pigs: the Effects of Mycosorb.
(2001)
It is well documented that deoxynivalenol (DON) can decrease feed intake, Average Daily Gain (ADG), and Feed Efficiency (FE) in swine. However, Fusaric Acid can also work synergistically with DON. This study was conducted to investigate the impact of Fusarium mycotoxins on nursery pigs' growth and feed intake, along with the ability of Mycosorb® to overcome the negative effects.
Pigs weighing 9 kg were placed 5 to a pen and fed one of five diets for 3 weeks:
Control
Lower level contaminated grains with DON at 2.9 ppm and Fusaric Acid at 36.22 ppm
Higher level contaminated grains with DON at 2.9 ppm and Fusaric Acid at 49.28 ppm
Higher level contaminated grain plus Mycosorb® at 0.2%
Pigs pair fed control diet control diet to the intake level of pigs fed high level contaminated grains
Weight gain and feed intake were measured and recorded weekly throughout the study, with the results shown below (figure 1).
This study concluded that the adverse effects of Fusarium mycotoxins can be overcome by feeding the YCW based adsorbent, Mycosorb®.
T.K. Smith, H.V.L.N. Swamy, S.L. Raymond and M. Zaytoun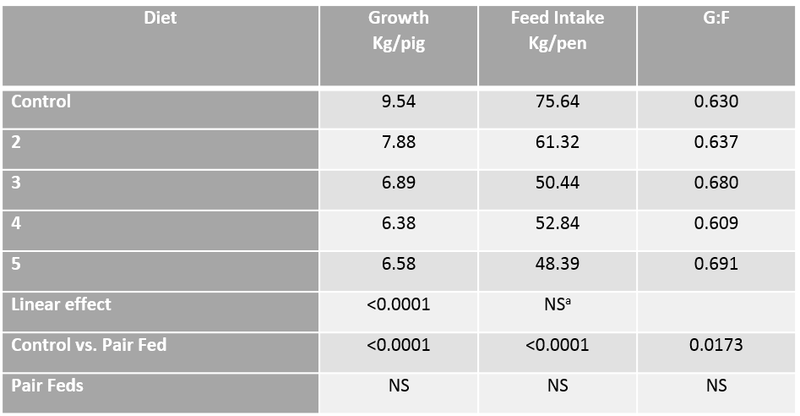 Naturally contaminated
feed alters broiler performance
(2003)
Research by Aravind et al., (2003) showed that feed naturally contaminated with a mixture of mycotoxins alters the performance and health of broilers — but the inclusion of esterified glucomannan (Mycosorb®, Alltech®) was effective at counteracting the toxic effects mycotoxins have on birds.
The study followed one-day-old broiler chicks for 30 days as they received one of four dietary treatments:
Control
Control plus 0.05% Mycosorb®
A diet naturally contaminated with mycotoxins (168 ppb aflatoxin, 8.4 ppb ochratoxin, 54 ppb zearalenone and 32 ppb T-2 toxin)
The naturally contaminated diet plus 0.05% Mycosorb®
The results of the study included the significantly decreased body weight — and, in turn, the poor feed efficiency — of broilers who consumed the mycotoxins alone. Birds consuming mycotoxins also displayed a decrease in urea nitrogen levels and in hematocrit values.
Birds consuming Mycosorb® during the mycotoxin study showed significantly improved growth rates and feed efficiency. These birds also had urea nitrogen concentrations.
The findings of this paper suggest that even relatively low levels of mycotoxins can impact the growth and performance of broilers, but that the addition of a dietary esterified glucomannan product is effective in counteracting the toxic effects of feed naturally contaminated with mycotoxins.
Adapted from Aravind et al., 2003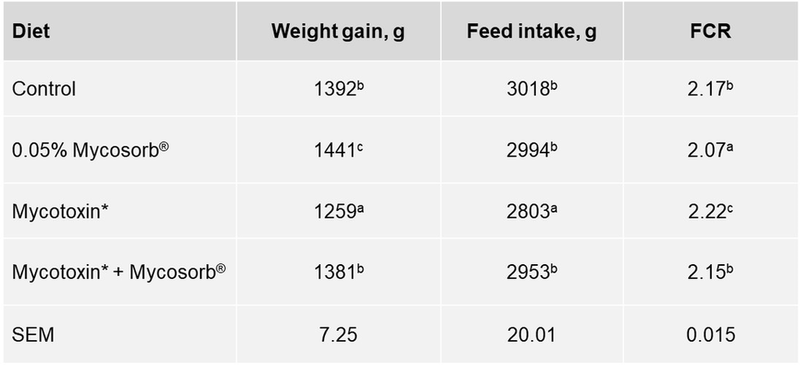 Environmental conditions have greatest influence on mycotoxin occurrence
Sowing time and hybrid type can reduce risk.
Reference: Blandino, M., V. Scarpino, D. Giordano, M. Sulyok, R. Krska, F. Vanara, and A. Reyneri. 2017. Impact of sowing time, hybrid and environmental conditions on the contamination of maize by emerging mycotoxins and fungal metabolites. Italian J. Agronomy, 12:928.
Recent research from Italy by Blandino et al. (2017) shows that the combination of corn crop sowing time and hybrid type may play a role in the occurrence of mycotoxins. Field experiments were carried out over two years, studying two sowing times (early vs. late) and three hybrid types.
The occurrence and concentration of mycotoxins varied from year to year. The 2014 growing season featured higher rainfall and lower temperatures during corn flowering and ripening. These conditions resulted in higher mycotoxin levels, particularly for Fusarium mycotoxins such as deoxynivalenol (DON) and DON-type mycotoxins. However, levels of fumonisin-type mycotoxins were highest during the 2015 growing season, which was characterized by less rain and warmer temperatures.
For DON and DON-type mycotoxins, earlier sowing times were associated with increased risk when the weather was ideal for Fusarium graminearum and Fusarium culmorum growth and mycotoxin production (i.e., wetter and cooler).
However, during the dryer and warmer year (2015), early sowing reduced the risk of DON-type mycotoxins. Additionally, full-season maturity hybrid types generally saw a greater risk over both years, despite the weather variation.
For fumonisin-type mycotoxins, later sowing increased the risk of mycotoxins during dryer and warmer conditions. Furthermore, in both years, the later maturity hybrids tended to be at an increased risk, although that risk was significantly greater in 2015.
Late sowing also increased the damage of the ears by European Corn Borer, due to ear development being shifted to a phase of production with greater insect activity. This damage by insects correlated to the occurrence of several mycotoxins, including fumonisins, fusaric acid and emerging mycotoxins.
In summary, the sowing date and use of certain hybrids can shift the growth states of corn, and environmental factors can also influence the plant and its susceptibility to fungal infection.
However, although sowing time and hybrid type play a role, environmental conditions clearly have the greatest influence on mycotoxin occurrence. Thus, laboratory analysis for mycotoxin occurrence and concentration, as well as a complete mycotoxin management program, are necessary insurance policies.


Mycosorb reduces
effect of aflatoxin
in Nili-ravi buffaloes
Recently published research shows that Mycosorb® (Alltech, Inc.) could significantly inhibit the effects of aflatoxin B1 (AFB1) on milk production and milk quality, and reduce the secretion of aflatoxin M1 (AFM1) in milk.
Reference: Naveed, S., K.A. Chohan, M.A. Jabbar, Y.A. Ditta, S. Ahmed, N. Ahmad, and R. Akhtar. 2018. Aflatoxin M1 in Nili-ravi buffaloes and its detoxification using organic and inorganic toxin binders. J. Hellenic Vet. Med. Soc. 69:873-878.
For 28 days, a total of 16 lactating buffaloes were randomly allotted one of four treatments, which contained either (A) 500 µg/kg AFB1 alone or also included one of three toxin binders: (B) 30 g/kg Fixar Viva, (C) 30 g/kg Mycosorb® or (D) 30 g/kg T5X.
The highest levels of dry matter intake and milk production were measured in group C (Mycosorb®), which saw a 20-percent increase in milk production over the aflatoxin-fed control group. Milk production did not improve for the buffaloes allotted either of the other feed additives.
Additionally, the feed additives in diets B and D did not alter milk components either, whereas animals receiving diet C (Mycosorb®) displayed significant increases in both milk protein and fat content. Excretion of AFM1 into the milk was detected in buffaloes who consumed AFB1 (A).
The results of this trial also show a 2.12-percent carry-over to AFM1 for the animals fed diet A (control).
The AFM1 excretion levels were lower than the control group for all of the diets including feed additives — but only the decrease in group C (Mycosorb®) was significant.
These study results indicate that the inclusion of Mycosorb® reduced AFM1 in milk by 47 percent.