 WEATHER & HARVEST RISK Q4 2018
Yesterday's climates could affect tomorrow's crop yields and mycotoxin emergence.
Dr. Max Hawkins
Mycotoxin Management Team
U.S.
Rainfall in the U.S., at a percentage of the normal rate, has shown a drying effect across the upper Midwest, which was extremely wet throughout summer and fall.
Areas of Oklahoma, Kansas and Missouri, however, remain dry, potentially leading to below-normal soil moisture as we head toward spring.
The Southeast and Mid-Atlantic regions have received above-normal rainfall, and crops harvested late have an increased risk for mold and mycotoxins.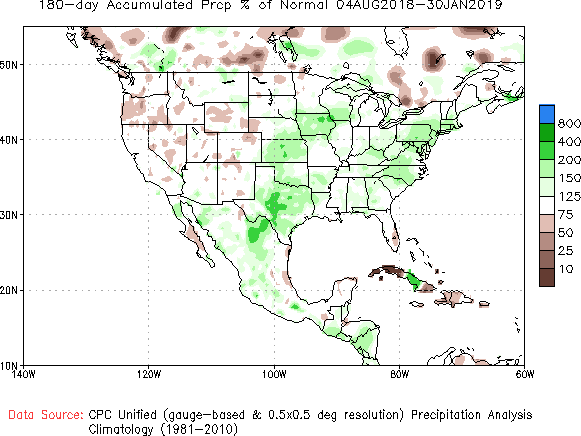 SOUTH AMERICA
The rain continues to fall over east-central Argentina, Uruguay and southern Brazil.
These regions have been dealing with this wet pattern, which is affecting planting schedules and crop emergence, for several weeks.
This pattern is expected to continue for at least another week, if not more.
Delayed planting schedules could lead to the knock-on effect of mycotoxin development in crops.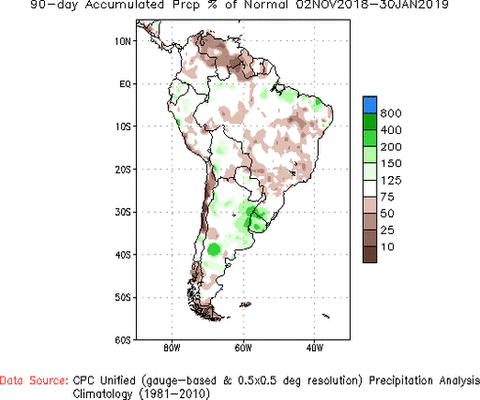 EUROPE
The dry pattern across Europe has eased, to some degree, but there are still dry areas with a temperature surplus, from an agronomic standpoint. This has been particularly true for Austria, Hungary, Poland, Ukraine and neighboring eastern European countries.
A rain surplus occurred mostly around the Mediterranean, including areas of southern France, Sicily and Sardinia, along with the southern Andalusian and Catalan regions of Spain.
In certain areas — predominantly, eastern France, Germany and southeastern Europe — winter cereals are at an emerging risk.
This could start a pattern of delayed maturity and crop stress approaching harvest, leading to an increased risk of mycotoxin development.