What could mycotoxins be costing you?
The Alltech® PROTECT™Calculator helps you understand any potential loss in performance your operations could be facing from the presence of mycotoxins, tailored by location and species, to give the most accurate results possible.
Combining known mycotoxin risk, production statistics, feed prices and commodity market values, this incredible tool will show estimated financial costs based on the level of mycotoxin contamination, helping quantify the impact of mycotoxins on profitability.
Available for nursery and grow/finish pigs, broilers, layers and dairy cows.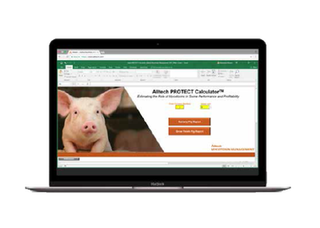 Alltech® PROTECT ™
​​​​​​​Calculator tool
Alltech® PROTECT™
Calculator